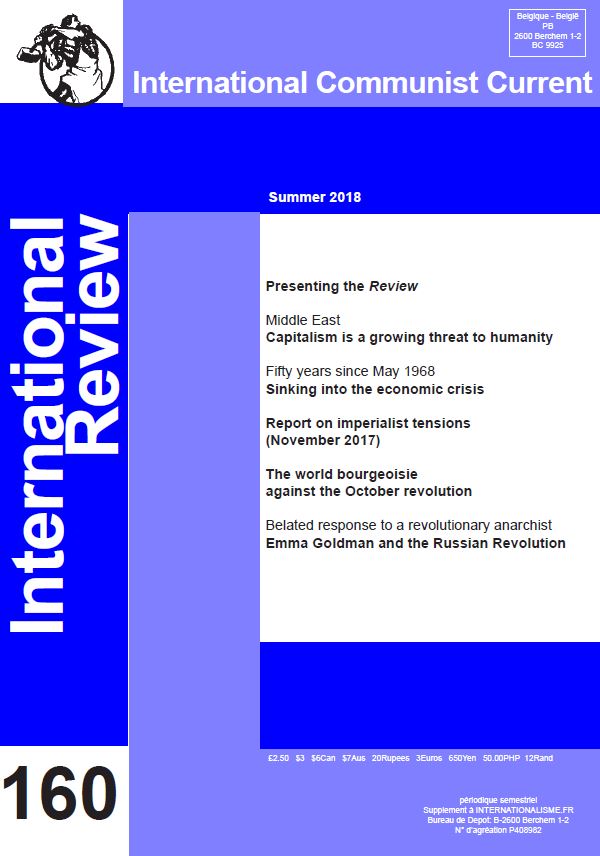 Contents
Presenting the Review 1
Middle East
Capitalism is a growing threat to humanity 2
The rise of new challengers
The Middle East maelstrom
The impact of political instability
Fifty years since May 1968
Sinking into the economic crisis 5
The material basis of the proletarian revolution
Fifty years of economic crisis
The development of state capitalism
Report on imperialist tensions (November 2017) 8
The orientations of the 1991 text
The analyses of the report to the 20th ICC Congress (2013)
The general development of instability in imperialist relations
The world bourgeoisie against the October revolution 13
(part one)
The provocation of the July days
The bourgeoisie tries to prevent the proletarian revolution
Beginning of the civil war and of the encirclement
The peace of Brest-Litovsk and the military offensive of the bourgeoisie
The time of plots
"Without the help of the Allies it is impossible to liberate Russia"
Economic strangulation
Belated response to a revolutionary anarchist
Emma Goldman and the Russian Revolution 18
"The truth about the Bolsheviki"
Enthusiasm and disappointment
The encirclement of the Russian Revolution
War does not create the best conditions for revolution
What possibilities for change after a revolution?
The Bolsheviks and the state apparatus: the shipwreck of marxism?
"The end justifies the means"
International Communist Current
<다운로드>