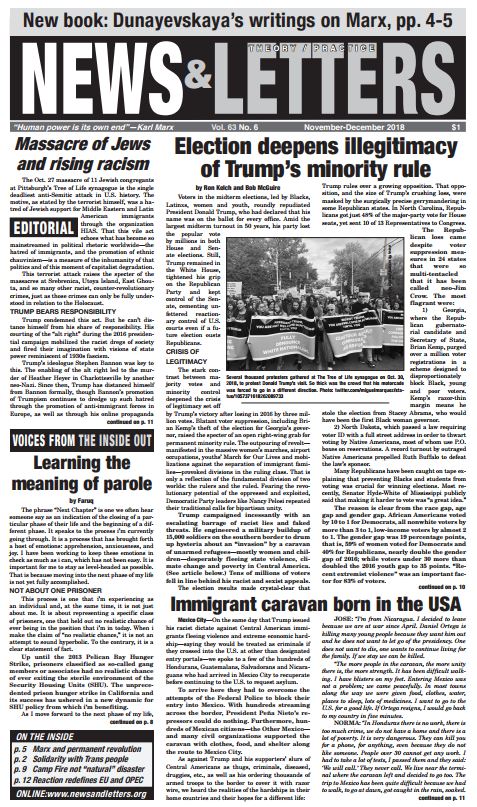 The November-December 2018 issue of News & Letters, Vol. 63, #6
Lead article: Election deepens illegitimacy of Trump's minority rule
A Marxist-Humanist view of the 2018 U.S. midterm elections that highlights the illegitimacy of Trump's rule, showing how it is the rule of a minority won because of anti-democratic voter suppression, gerrymandering, racism, sexism, extreme anti-immigration rhetoric, hate speech and lies. It highlights the other America that opposes such neo-fascism.
New book: Marx's Philosophy of Revolution in Permanence for Our Day
New book published for the 200th anniversary of Marx's birth—"Marx's Philosophy of Revolution in Permanence for Our Day: Selected writings by Raya Dunayevskaya"
From the Writings of Raya Dunayevskaya: Karl Marx's continuous development of the philosophy of revolution in permanence
Marking the publication of writings by Raya Dunayevskaya on Marx's philosophy of revolution in permanence, the article presents parts of a lecture in which she gave an overview of this concept in relationship to her just-completed book, "Rosa Luxemburg, Women's Liberation, and Marx's Philosophy of Revolution."
Essay: Marx's concept of permanent revolution as philosophy: Exploring it today with Dunayevskaya
On the occasion of the publication of the new book "Marx's Philosophy of Revolution in Permanence for Our Day: Selected Writings by Raya Dunayevskaya," this essay explores Marx's ideas on the basis of Dunayevskaya's writings on them as a philosophy of revolution needed for our age.
Editorial: Massacre of Jews and rising racism
The Oct. 27 massacre of 11 Jewish congregants at Pittsburgh's Tree of Life synagogue is the single deadliest anti-Semitic attack in U.S. history. The motive, as stated by the terrorist himself, was a hatred of Jewish support for Middle Eastern and Latin American immigrants through the organization HIAS.
Immigrant caravan born in the USA
Migrants on the immigrant caravan to the U.S. speak for themselves about why they left their home countries, which have experienced problems due to a history of U.S. imperialism.
Voices From the Inside Out: Learning the meaning of parole
Prisoner Faruq writes of his pending parole and the obligation to fight the designation that prisoners are the "worst of the worst," to fight the dehumanization of prisoners; he forwards the importance of prisoner activism in changing draconian conditions.
Women as Reason: Solidarity with Trans
The Trump administration's latest outrage is its attempt to erase Transgender people. Its tactic this time is to declare that Trans people do not exist, subverting the spirit of Title IX.
California fires are not 'natural' disasters
Climate change and downed power lines from PG&E are the reasons for the unprecedented wildfires in California in 2018, despite Donald Trump's attempt to put blame elsewhere and open California forests to more logging.
Counter-revolution redefines EU, OPEC
In OPEC powers' participation in the counter-revolutionary attacks on the revolutions in Syria and Yemen, and in the anti-immigrant reactionary reshaping of European politics, we see the next stage of bourgeois politics taking shape.
Letter from Mexico: Rejecting fake choice in airport referendum
The elected government of Morena party organized a National Consultation on Mexico's New Airport from Oct. 25-28. How are the Indigenous people resisting it?
Bolsonaro's fascism threatens Brazilians
Jair Bolsonaro, elected President of Brazil, is a racist, misogynist, homophobic admirer of Brazil's 1964-1985 military dictatorship. The coming months will tell whether the masses will mount a crucial resistance.
Page 2
Review: Feminist Awakening in China
An account of #MeToo in China is documented in a new book by Leta Hong Fincher, "Betraying Big Brother: The Feminist Awakening in China."
Protesters slandered
Just before the final confirmation vote elevating Brett Kavanaugh to the Supreme Court, President Donald Trump and Senate Majority Leader Mitch McConnell put out messages that slandered the act of protest itself.
Women Worldwide
Women Worldwide column on a rape trial in Cork, Ireland; the women student movement Pinjratod or "Break the Cages" in India; and forced sterilization of Indigenous women in Saskatchewan, Canada.
Page 3
'Striking to Survive' in China
Report on a talk in Oakland by worker-activists from China, including Fan Shigang, author and editor of "Striking to Survive: Workers' Resistance to Factory Relocations in China."
Iran strike solidarity
Workers at Haft Tappeh Sugar Cane in Iran have been on strike for most of November. This is the latest of their walkouts this year over unpaid wages.
Nurses on strike
Licensed practical nurses and supporters rallied at the University of Illinois Hospitals during their unfair labor practices strike.
Gig road to poverty
Contrary to the boosterism that we always hear from Trump, an MIT study revealed that on average an Uber-type driver's income declined last year from $1,469 per month to $783, a drop of 47%.
Page 6
Readers' Views
Readers' Views on: Capitalism vs. the Planet; Anti-Semitism's Inhumanity; Kavanaugh Travesty; Youth Rock!; Freedom Movements vs. Fascism across the Globe; Catholic Church Crisis; Voices from behind Bars
Page 8
The many forms of racism in the U.S.
Prisoner Robert Taliaferro discusses how racism and xenophobia are alive and well in the U.S., and take many forms, both blatant and subtle.
Jackie Lacey, Los Angeles DA, must go!
Concerned groups in Los Angles, Calif., held rallies and delivered a petition to LA District Attorney Jackie Lacey demanding she "Prosecute Killer Cops" or step down as DA.
Frantz Fanon warns Ali Shariati
A new book, "Frantz Fanon: Alienation and Freedom," reveals that Frantz Fanon warned leftist Islamist Ali Shariati that, despite Islam's anticolonialist potential, without the spirit of emancipation it risked diversion to sectarianism, approaching the past rather than future, like African nationalisms.
Page 9
Review: The Feeling of Being Watched
The film "The Feeling of Being Watched" exposes the FBI's "Operation Vulgar Betrayal," which tracked Muslim organizations only because they were Muslim, and reminds its audiences of other FBI investigations.
James Cone (1938-2018)
Obituary of scholar James H. Cone, who founded Black liberation theology and struggled against racism and white supremacy.
Handicap This!
FEMA's failure to include people with disabilities in its response to natural disasters; airline passengers with disabilities gain a bill of rights; George Mason University sororities turn down AnnCatherine Heigl, who has Down syndrome; Texas is penalized for underfunding special education programs.
Queer Notes
"The Orlando Traveling Memorial" commemorates those murdered and those who aided the victims of the 2016 Orlando Pulse shooting; Transgender woman Aimee Stephens' successful employment discrimination lawsuit; protesters decry Trump administration proposal to define gender as fixed at birth; Romania's referendum defining a family as composed on one man and one woman fails.
Page 11
Youth in Action
Yale Law School students sit in to protest the rush to confirm Brett Kavanaugh for the U.S. Supreme Court; three Australian eighth-graders boycott school over plan to open coal mines on indigenous land overlooking the Great Barrier Reef; and California high school students attend school board meetings en masse to demand the right of 16-18 year olds to vote in school board elections.
Iranians remember
Iranians gathered in Santa Monica in remembrance of the victims of Ayatollah Ruhollah Khomeini's 1979-1989 regime.
Page 12, World in View
Raed Fares
Raed Fares, revolutionary martyr of Kafranbel, Syria, is remembered after his assassination.
Vietnam is in turmoil
In response to massive protests in Vietnam, Communist Party General Secretary and ideologue Nguyen Phu Trong was named president, becoming the newest of the world's strongman rulers.
Yemen peace talks
Yemeni civil society organizations have released a statement that should become the basis for peace negotiations.
Murder in Venezuela
Days after the Saudi regime murdered Jamal Khashoggi, the Venezuelan regime of Nicolas Maduro murdered its own critic, Fernando Alban Salazar, in equally horrific fashion.


- NEWS AND LETTERS COMMITTEES


<원문 다운로드>