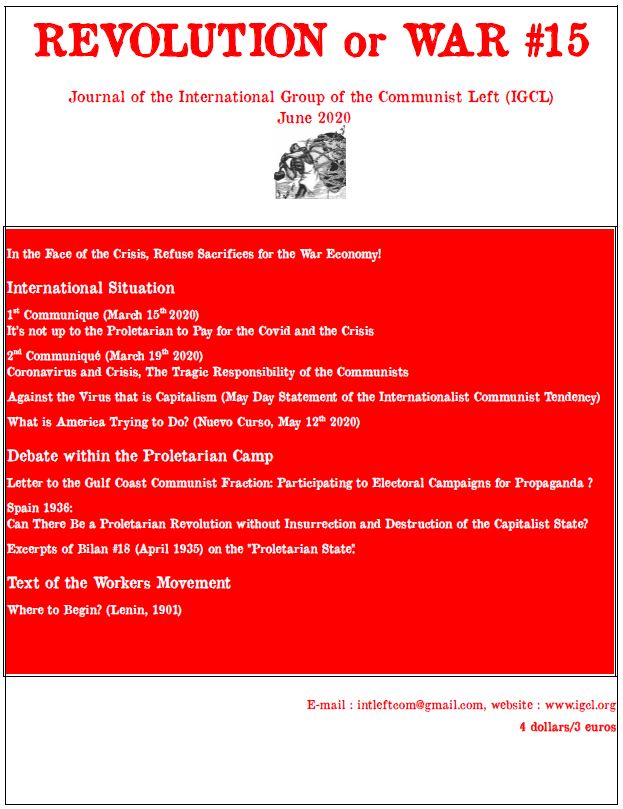 REVOLUTION or WAR #15
Journal of the International Group of the Communist Left (IGCL) – June 2020
Content
In the Face of the Crisis, Refuse Sacrifices for the War Economy!
International Situation
1st Communique (March 15th 2020)
2nd Communique (March 19th 2020) : The Tragic Responsibility of the Communists
Against the Virus that is Capitalism (Internationalist Communist Tendency, May 1st 2020)
What is America Trying to do (Nuevo Curso, May 12th 2020)
Debate within the Proletarian Camp
Letter to the Gulf Coast Communist Fraction:
Participating to the Electoral Campaigns for Propaganda Purposes ?
Spain 1936: Can There Be a Proletarian Revolution without Insurrection and
Destruction of the Capitalist State?
Excerpts of Bilan #18 on the Proletarian State (April 1935)
Text of the Workers Movement
Where to Begin? (Lenin, 1901)
International Group of the Communist Left (IGLC)
<원문 다운로드> eng_rg15.pdf