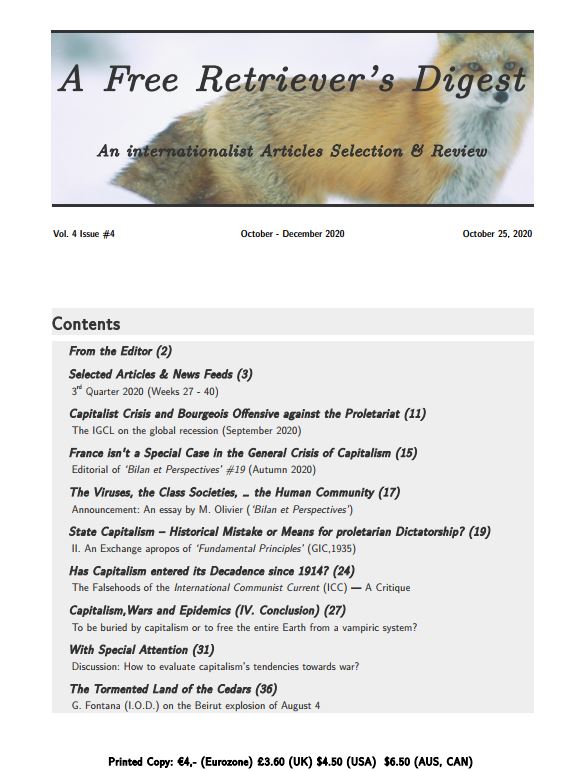 A Free Retriever's Digest Vol. 4 Issue #4 October - December 2020
An internationalist Articles Selection & Review
From the Editor
Selected Articles & News Feeds
3rd Quarter 2020 (Weeks 27 - 40)
Capitalist Crisis and Bourgeois Offensive against the Proletariat
The IGCL on the global recession (September 2020)
France isn't a Special Case in the General Crisis of Capitalism
Editorial of 'Bilan et Perspectives' #19 (Autumn 2020)
The Viruses, the Class Societies, … the Human Community
Announcement: An essay by M. Olivier ('Bilan et Perspectives')
State Capitalism – Historical Mistake or Means for proletarian Dictatorship?
II. An Exchange apropos of 'Fundamental Principles' (GIC,1935)
Has Capitalism entered its Decadence since 1914?
The Falsehoods of the International Communist Current (ICC) — A Critique
Capitalism,Wars and Epidemics (IV. Conclusion)
To be buried by capitalism or to free the entire Earth from a vampiric system?
With Special Attention
Discussion: How to evaluate capitalism's tendencies towards war?
The Tormented Land of the Cedars
G. Fontana (I.O.D.) on the Beirut explosion of August 4