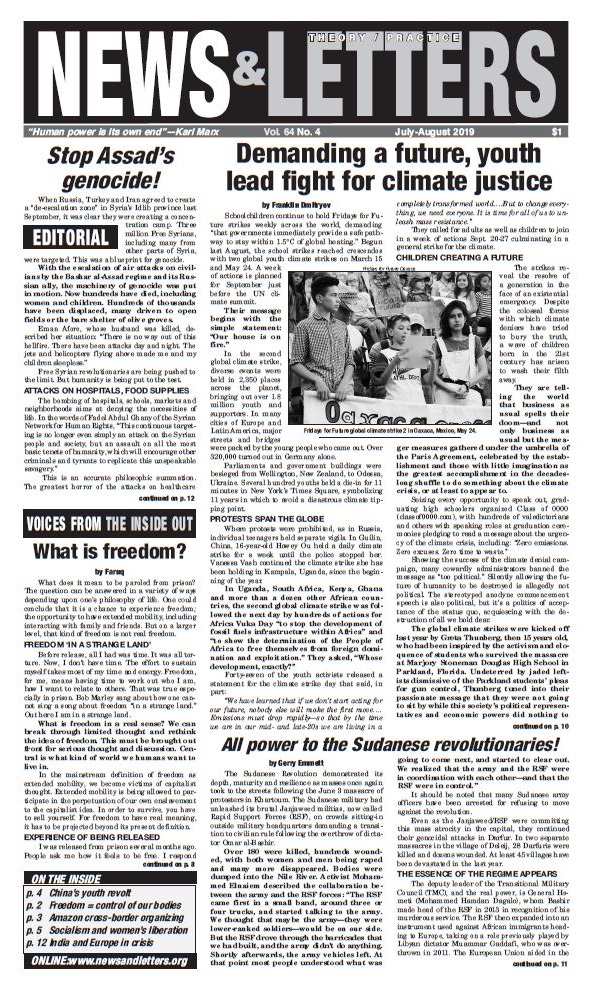 The July-August 2019 issue of News & Letters, Vol. 64, #4
Editorial: Stop Assad's genocide!
Voices from the Inside Out: What is freedom?
Demanding a future, youth lead fight for climate justice
Editorial: Freedom=control of our own bodies
Amazon workers organize cross-border solidarity
From the writings of Raya Dunayevskaya: China's youth revolt vs. Mao's legacy
Free Syrian revolutionaries are being pushed to the limit. But humanity is being put to the test.
Essay: What is socialism? Socialism and Women's Liberation
World in View: A tale of two democracies in crisis
Trumpism aims to bleach the census
The truth of the 'Woolsey Fire'
Millions in Hong Kong challenge Xi's ambitions
- NEWS AND LETTERS COMMITTEES
<다운로드> 2019-07-08.pdf